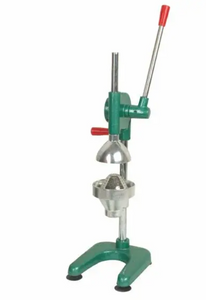 We will be providing Non-Contact Deliveries to BROOKLYN, MANHATTAN, & QUEENS: All orders placed will be delivered Monday/Wednesday/Friday once the order is fulfilled completely. Deliveries are subject to change due to availability of items. For residents that live in apartments, we will contact you before delivery.
It is a sturdy efficient stand juicer with a unique retro look
Press the large lever down to squeeze juice with minimal effort to efficiently juice lemons, limes, oranges or grapefruit
Fresh juice is a great addition to any menu and wonderful as an ingredient in marinades and sauces
This juicer will be a welcome addition to any kitchen; it's easy to use, and extracts juice down to the last drop and strains most unwanted pulp
Originated from Taiwan
Disclaimer: Brands are subjected to change based on availability, however, the quality of the supplies will remain the same. Make sure to always examine your products carefully upon receiving and report damages or missing items within 5 business days. Returns are subjected to a 25% Restocking Charge.