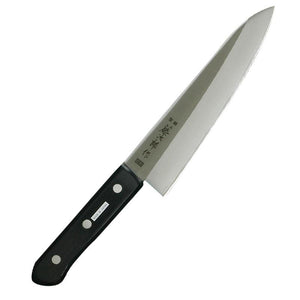 We will be providing Non-Contact Deliveries to BROOKLYN, MANHATTAN, & QUEENS: All orders placed will be delivered Monday/Wednesday/Friday once the order is fulfilled completely. Deliveries are subject to change due to availability of items. For residents that live in apartments, we will contact you before delivery.
Tojiro, in Niigata Prefecture, produces a wide range of knives for both professional and home use. This DP Series knife series is made with cobalt alloy steel encased in 13-chrome stainless steel with no bolster for home kitchen use. The "Gyuto" is an excellent all-purpose knife.
Blade: 7" / (180mm).
Total: 11.6" / (295mm).
Handwash, store dry.
Made in Japan.
K-89
Disclaimer: Brands are subjected to change based on availability; however, the quality of the supplies will remain the same. Make sure to always examine your products carefully upon receiving and report damages or missing items within 5 business days. Returns are subjected to a 25% Restocking Charge.